Introduction
Welcome to the website that describes the most complete archive of medical notes from the Great War in the world.
The Queen's Hospital, Sidcup performed plastic surgery of the face between 1917 and 1925, and today's Queen Mary's Hospital possessed a unique collection of over 2500 case files relating to that era. The pages that follow show details of the collection; in addition there is a medical bibliography of the Great War and some useful links to sites about the war, plastic surgery and rheumatology.
Since the site was first developed I have added a number of image galleries which can be accessed from the sidebar links and a spreadsheet of names for whom records exist. This includes not only the British and New Zealand Section's patients, but also the names of Australians (records held in Melbourne) and Canadians (list constructed from the Canadian section's Admissions book).
In October 2011 the archives were decommissioned as the result of a hospital reorganisation, and have now been dispersed. However they remain accessible and I am happy to assist enquirers in my capacity as Gillies Archivist to the British Association of Plastic, Reconstructive and Aesthetic Surgeons (BAPRAS).
The BAPRAS website (see link below) may also be useful to researchers, as BAPRAS holds an extensive archive of books and ephemera. Separate contact details are on the sidebar.
In summary the Sidcup archives have been divided as follows:
I have retained a collection of hospital postcards and some other material. I also continue to maintain the Medical Bibliography relating to the First World War.
See the second link on the sidebar for more details ("The Archives").
I am pleased to announce that my book "Faces from the Front" (Solihull, Helion Press) which was released in August 2017 was awarded first prize in the British Medical Association's Book Awards for 2018 in the "Basis of Medicine" category. See this link for details.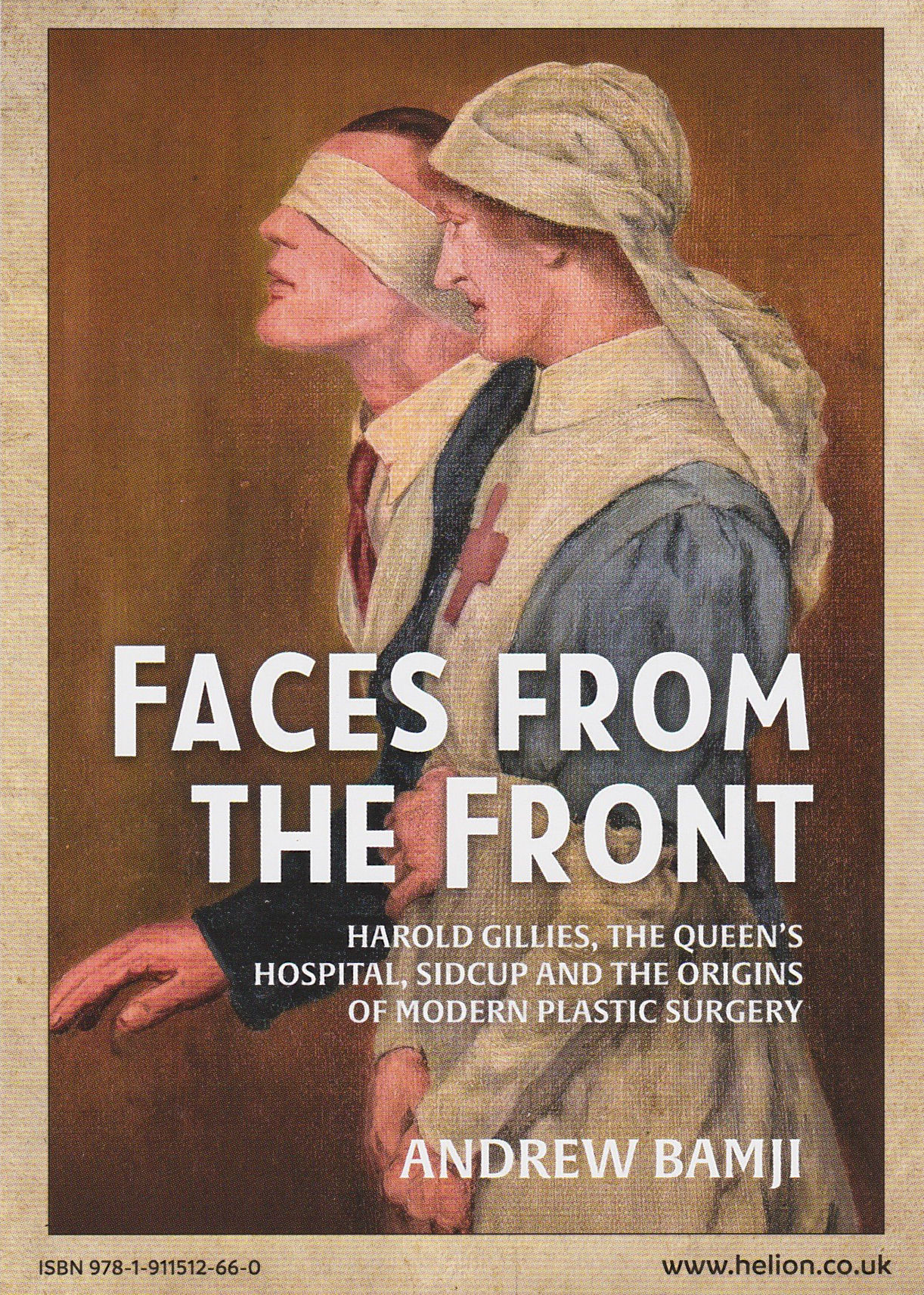 Dr Andrew Bamji FRCP
This site was last updated on 16th October 2022
Initial design by Nick Bamji; thanks to Salena Benson for updating layout
Important note: this site will open some windows as pop-ups. You may need to disable a pop-up blocker, override it or set it to allow pop-ups from this site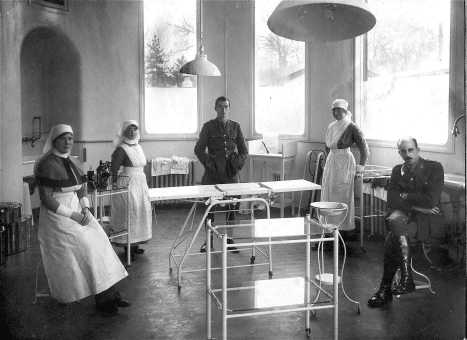 Where it all began: The Plastic Theatre, Queen Mary's Hospital, 1917. Harold Gillies is seated on the right
Harold Gillies's seminal textbook "Plastic Surgery of the Face" (1920) has been digitised and is now available at the Internet Archive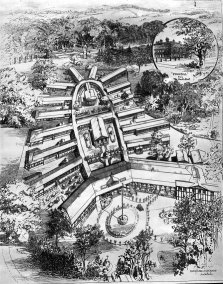 Architect's drawing of the Queen's Hospital
Visitors to the Archives...
The move of the archives to the Royal College of Surgeons has meant that our visitors have to come there, and with the kind permission of the Museums Curator, we can use the Library as a setting. This has the additional advantage that visitors can also visit the BAPRAS archive. However the College is at present closed for major renovations; contact the College Archivist for assistance.
In 2014 I was pleased to assist Howard Brenton with his play based on the work of Harold Gillies - "Dr Scroggy's War" which started its run at The Globe Theatre on London's South Bank in September 2014. The play has been well reviewed and family feedback was very positive.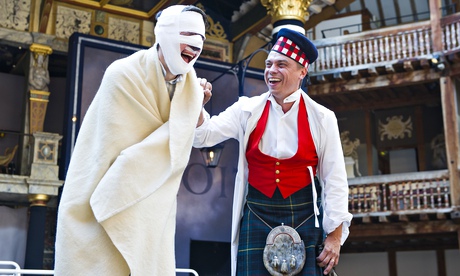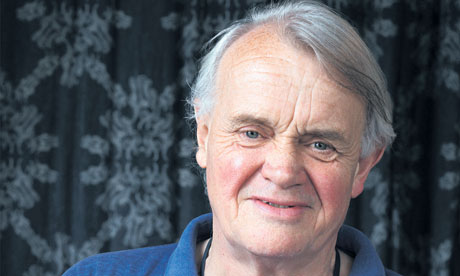 Left: A scene from the play. Will Featherstone as Jack Twigg (left) and James Garnon as Harold Gillies in Doctor Scroggy's War. Photograph: Tristram Kenton for the Guardian
Right: Howard Brenton
I appeared with Jeremy Paxman in his series"Britain's Great War", screened by the BBC in January 2014. took place in the library of the Royal College of Surgeons. Below is a screen shot from Episode 4 of the series.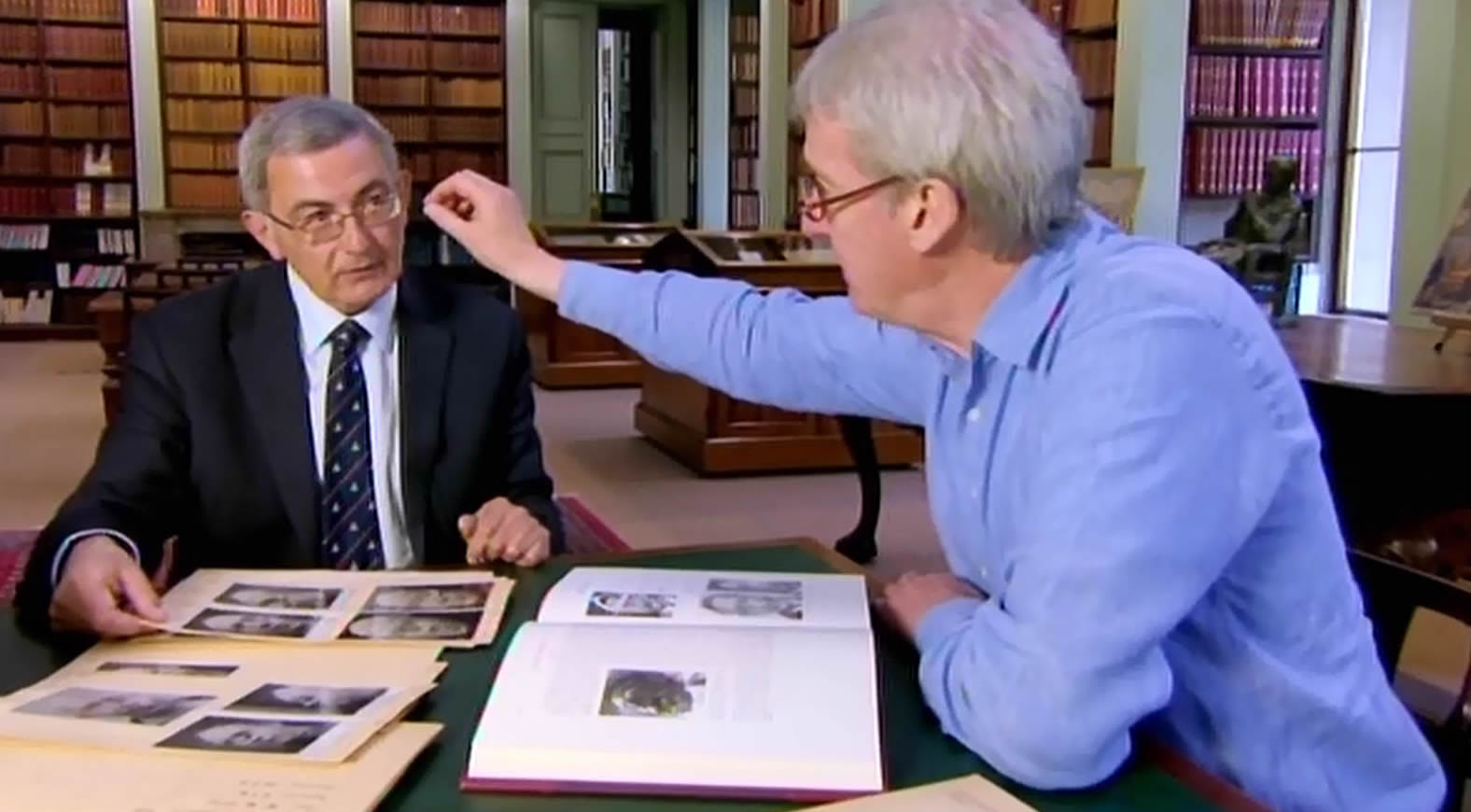 On 19th June 2013 Mr Brian Morgan (BAPRAS Archivist) and I met Dr Felix Freshwater, a distinguished plastic surgeon from Miami, who was a pupil of Dr Ralph Millard and is an enthusiastic historian of the development of plastic surgery in the 20th Century. Felix sadly died in 2017 - a great loss to the world of plastic surgery history. Brian has been succeeded as BAPRAS Archivist by Mr Roger Green.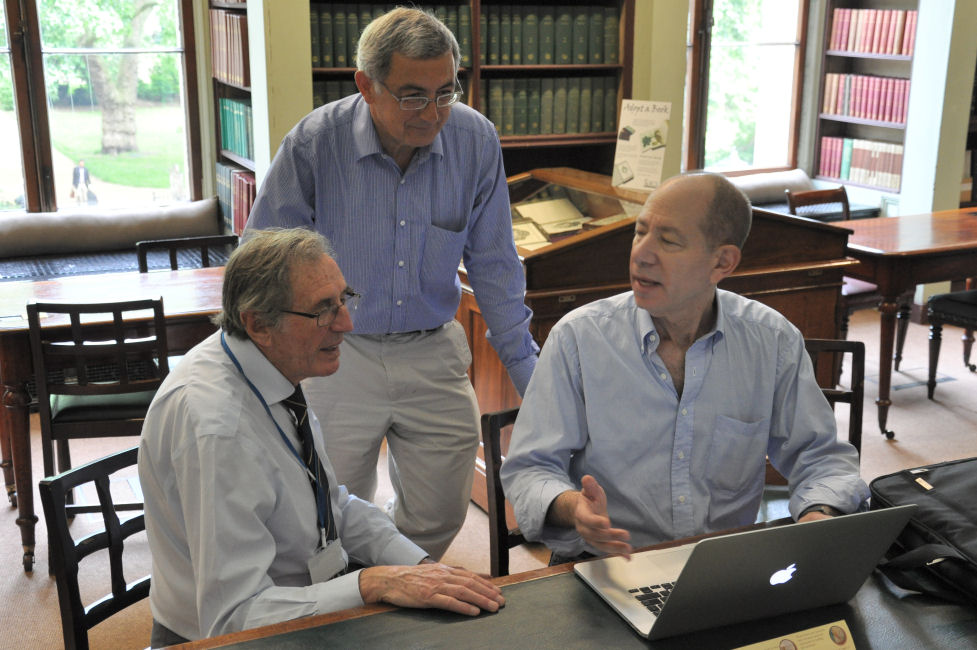 L to R: Brian Morgan, Andrew Bamji, Felix Freshwater at RCS, June 2013
I was delighted to welcome the distinguished author and Booker Prizewinner Pat Barker, whose "Regeneration" trilogy describing the work of Rivers at Craiglockhart is perhaps best known, but who has written a novel centred on Henry Tonks and the Slade School ("Life Class"). Her sequel, "Toby's Room", was published n in early 2012. We were able to show her a number of original operative sketches by Tonks and provide other background information which has informed the narrative.
Sky Arts began a new series of Melvyn Bragg's "South Bank Show" and the second show featured Pat Barker talking about her career as a novelist, and about her new book.. The programme was transmitted on June 3rd 2012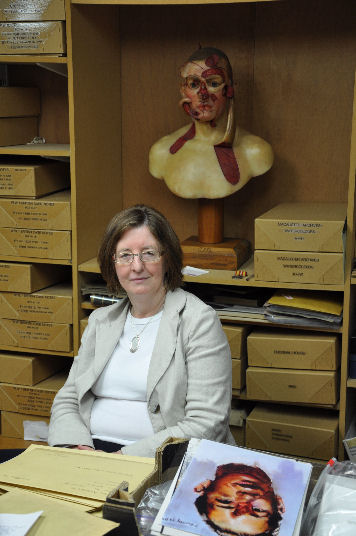 The archives welcomed a production team from BBC's "Timewatch" on 22nd February 2008. The programme about the last days of WW1 has been transmitted several times and may become part of the WW1 educational resource being developed by the Department of Education for use in schools. It was especially exciting to meet presenter Michael Palin who was clearly moved by the photographs in the casenotes.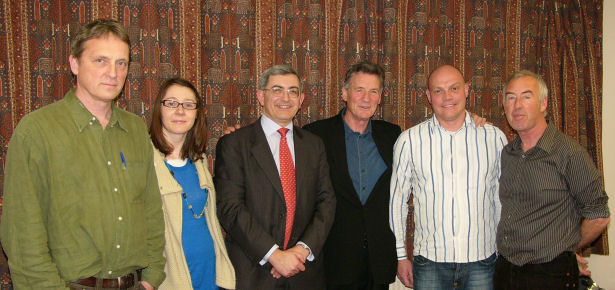 "Timewatch" in the archives: John Hayes Fisher (producer/director) Alison Semour (production co-ordinator), Andrew, Michael, David Holmes (sound) Julian Clinkard (camera)
I have acquired a large number of interesting medical images from WW1 - but would welcome your help! Many postcards were produced for many of the hospitals around the British Isles - military hospitals, Red Cross hospitals and hospital ships in particular - together with images of hospitals in France, Italy and elsewhere. We have copies of quite a number of these. Of themselves thay are not always very photogenic, but should you possess any such postcards we would be very interested to receive a digital image - or more than one - to add to our archive collection. Please do email any images to Dr Bamji.
Images on this site may not be used for any professional or commercial purpose without permission